Brief History
viaPlace emerged from an idea in 2004 to fuse together emerging technologies and provide the end user with dynamic experiences and information based on their location. Since its official formation in 2009, viaPlace has become a market leading Software­-as-­a­-Service (SaaS) company, creating applications that utilize the newest technologies in geolocation.
Partnership with Mindgrub
viaPlace has a strong relationship with Mindgrub, a fully staffed technology innovation agency that cultivates top tier talent in user experience, design, development and digital marketing. With a strong portfolio across a multitude of fields, Mindgrub has reached clients like Under Armour, Crayola, University of Maryland, Towson University, AOL, DELL, Wendy's, Parking Panda, Geico, and the Smithsonian. With the strength of viaPlace's software combined with the design, development, and marketing know-how of Mindgrub, our clients are ensured success.
---
Leadership Team
Todd Marks – President & Founder
As Founder and President of both viaPlace and Mindgrub, Todd has a history of technological and entrepreneurial innovation. Marks is an industry leader, professor, author, and sought after speaker. Marks has been featured in publications like The Huffington Post, Inc.com, CNN, Baltimore Business Journal, The Baltimore Sun and Newsweek, and appears regularly at conferences such as TedxBaltimore, SXSW, the NABShow and SALT.
Outside of work, Todd enjoys being outdoors. On most weekends you can find him camping, kayaking, biking, or spending time with family.
Dan Cohen – Chief Operating Officer
As Chief Operating Officer, Dan oversees business development and sales for viaPlace. Before joining the viaPlace team, Dan worked as COO/CTO of TigerGPS.com, helping to grow the company and its revenue exponentially. Dan holds a BSE from Princeton University in Operations Research and Financial Engineering, and a MS from Georgia Tech in Operations Research.
Outside of work, Dan enjoys spends time with his growing family and playing sports, and regularly attending music concerts.
AJ Workman – Vice President of Product Development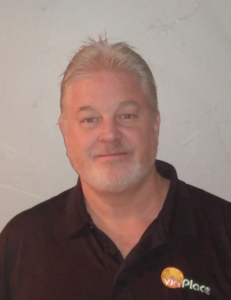 AJ Workman is a creative visionary having done Special Effects / Makeup Effects in 41 films over 11 years. He then worked over 11 years for The Walt Disney Company as an Imagineer where he first met Todd Marks while discussing wayfinding for the Disney parks. He spent the rest of his career developing software and working with emerging technologies and how they relate to guest experiences. Before joining viaPlace, he led the team developing highly accurate wayfinding and new technologies for The Museum of the Bible, opening Nov 2017.